(english version below)
El skateboarding femenino ya no es cosa de una o dos en la ciudad. Las chicas ya tienen lugar permanente en el skate-universo y nada las va a hacer abandonarlo. Lo de estar o sentirse "solas" en la plaza o el parque es cosa del pasado. Colectivos, marcas, revistas y plataformas creativas por y para ellas están naciendo y expandiéndose aquí y allá. Para un breve testimonio de cómo está el tema, conectamos con una hiperactiva agente del movimiento, una española transplantada a la la ciudad de Londres hace unos años. Conozcan a Carla Calero.
Háblame de tus orígenes y de por qué vives en Londres? 
Soy originaria de Madrid. Me mudé a Londres cuando cumplí 18 años, quería moverme fuera, independizarme y sobrevivir en un país donde no tuviera ni idea de cómo hablar el idioma. Mi madre me apoyó con la decisión, nunca me puso ningún limite.
¿Dónde empezó tu amor por el skate?
Todo empezó en Londres, antes de aprender a patinar bien ya me movía en patín, pero en Londres fue cuando empecé a darle caña de verdad.
¿Es popular el skate para las chicas londinenses? ¿se fomenta desde alguna tienda o colectivo?
Sí, bastante, no sólo en Londres , también en el resto de UK. La escena femenina se ha vuelto bastante popula  y hoy en dia hay bastante nivel. En Londres se fomenta gracias a la página de Girl Skate UK. Otra página que aporta mucho a la escena del patín femenino en Europa es girlsshred.com. Otras marcas y tiendas que apoyan la escena femenina son Three Amigos, Hop King y Sweet Skateboards.
¿Estás involucrada en otros ámbitos de la cultura o de la creatividad?, ¿qué otras cosas haces además de patinar? 
Colaboro y escribo para Hey Girl Magazine. Me encanta formar parte de su equipo porque apoyan temas sociales y culturales variados y da igual si eres hombre o mujer. También trabajo de modelo intermitentemente y de vez en cuando toco la guitarra. Pronto entraré en la universidad a estudiar ingeniería de redes y ciberseguridad.
¿Qué sabes del skate en España? conoces a chicas skaters de aquí?
Desde mi punto de vista ha evolucionado bastante, y en el tema femenino también. Además son todo máquinas. Conozco a Andrea Benítez (gran inspiración y buena colega), las gemelas Wilshulsen, Clara Ferrer,  Eve y Levana del Dinero DIY y a algunas cuantas chicas más de Madrid, Sevilla y Málaga.
La motivación para una chica debe ser doble en una ciudad fría y lluviosa como Londres, ¿cuáles son tus estímulos para patinar?
Es la presión de tener un par de días libres a la semana y no querer quedarte en casa. Siempre se encuentra algún carpark o indoor para ripar. Da igual que llueva, haga frío o nieve, la cuestión es salir de la cueva para no oxidarte y darlo todo.
Tus spots favoritos de todo tipo en la ciudad son…. 
Me encanta patinar Clapham Common, Mile End, Royal Oak o cualquier spot bueno de calle. Soy de cocinar en casa pero un Pret a Manager te salva la sesión si estas patinando por ahi, la pizzeria de al lado de mi casa que las hacen a mano. Me encantaba salir por Dalston o Tottenham Hale a cualquier rave, sin embargo, este año comencé a ir a ''The Alibi'' y justo hace poco lo han cerrado, RIP.
Lo que más te gusta y lo que menos de la vida en Londres
Me gusta el estilo de vida y el hecho de que puedes ser tú. La gente también me flipa, los ingleses son lo mejor. Lo que me repatea de la ciudad es que se columpian con los precios, es una ciudad demasiado cara para vivir, solo malvives, pero mola.
Próximos planes, agradecimientos, last words….
Volveré a patinar dentro de un par de meses después de haber estado dos años lesionada de la rodilla y pasado por quirófano dos veces, así que me gustaría viajar mazo el año que viene, tengo en mente Los Angeles y Australia.
Me gustaría agradecer a Hop King el apoyo incondicional y motivación que me han estado dando durante este año, también a Three Amigos Skateshop, Sweet Skateboards y a Glassy por tener mis ojos protegidos durante todo el año.
Carlita The Gypsy en Instagram
Entrevista por John López
Fotografías por Henry Morris y Martyna Oberti
Female skateboarding has become something more than just one or two girls in every city. They have found their place in the skate universe and nothing will make them retreat. Now, collectives, brands, magazines and platforms, created by and for the sk8-ladies, have raisen everywhere having their own backs. For a brief testimony of the subject, we connect with an ever-active agent of the movement in the city of London. Meet Carla Calero.
Tell me about your origins and why do you live in London? 
I'm originally from Madrid (Spain). I moved to London when I was 18. I wanted to move out of my country and experience what it was like to live independently from my family and survive in a country where they don't speak my language and learn it. My mum never had an issue with it, she pushed me to do it, and she has always been there supporting me.
Where did your love for skate begin?
Everything began in London, before I started to skate properly I used to cruise around, but yeah, it was in London where I started to shred properly.
Is skateboarding popular in London for girls? Is it promoted from a store or collective?
It is become pretty popular not just in London but the rest of the UK and Europe and there's such high level. Skateboarding got popular here thanks to sites like Girl Skate UK and girlsshred.com. There is big support towards to the female scene from shops and brands.
Are you involved in other areas of culture or creativity? What other things do you do besides skate? 
I collaborate with Hey Girl Magazine, I love to be part of the team because it's about collaboration, creativity and equality. We support people no matter what they do or what gender. Also I do modeling jobs from time to time. I`m going to college this year to study Networking and cybersecurity, and I am pretty stoked about it since I love computing. I also play guitar sometimes.
What do you know about skateboarding in Spain? Do you know skaters here?
I think the skateboarding scene has evolved quite a lot in Spain from my point* and mostly in terms of the female scene. Of course I know skater girls in Spain, like Andrea Benítez (such an inspiration and a good friend of mine), the Wilshulsen twins, Clara Ferrer, Eve and Levana from Dinero DIY and some other girls from Madrid, Seville and Malaga
In a cold and rainy city like London it must be twice as hard to find motivation, what pushes you to skate?
I think is the fact that I just got a couple of days off per week, so I need to skate, because there's no point at all staying at home because of the weather. There's always an undercover place to skate at winter like indoors or a carpark. Doesn't matter if it rains or it's snowing, the point is to get out of and shred.
Your favorite spots in the city…
I love skating Clapham Common skatepark, Mile End, Royal Oak or any good street spot. In terms of food, I`m the kind of person who likes to cook but when I am out and in a rush I always grab something from Pret, and that saves your day. Also I know a really good pizza place near my house where the pizzas are homemade and they are so nice. I used to go raving in Tottenham Hale and started to go to the Alibi this year but they closed down no long ago, I'm quite gutted about it.
What do you like most and least about living in London?
I`m in love with the lifestyle of the city and the fact that you can be yourself and no one is going to judge you at all. Also, I love British people, the way they behave and stuff. What I hate about London though, are the prices and how expensive and hard to maintain yourself it can be sometimes, but I don't care, I still loving it.
What`s next in your life, Carla?
My future plans are getting back on board in a couple of months after recovering from a injury (ACL and meniscus) it's been two years and it's been pretty frustrating going under the knife twice. So I'm planing to travel next year to L.A or Australia.
I would like to thank Hop King for the unconditional support and motivation that they have been giving me this year as well as Three Amigos Skateshop, Sweet Skateboards and Glassy for having my eyes protected throughout the year.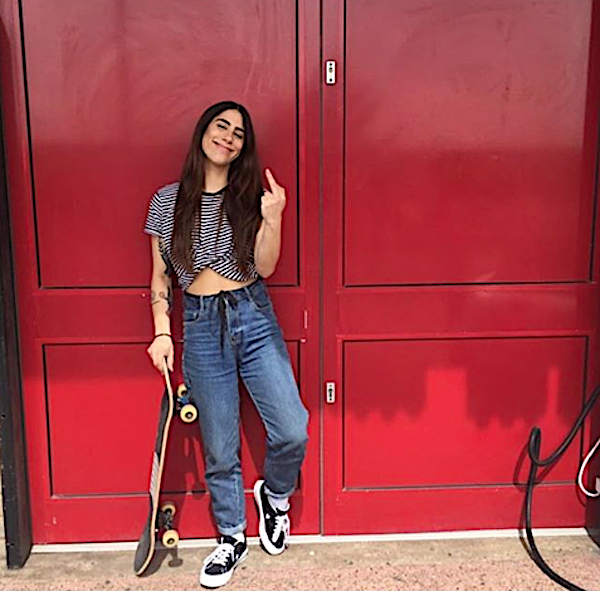 Comments
comments