(english version below)
La de los noventa fue una década de excitante inestabilidad para el skateboarding. Un tiempo de altibajos al que hubo que adaptarse sin rechistar, gustosamente y con la permanente curiosidad por saber qué vendría después.
Diez años que empezaron en una explosión global absoluta, siguieron con un extraño periodo de decadencia y acabaron afirmando la cultura skate, catapultándola hacia un negocio de billones de dólares en el 2000.
Muchos fueron los factores determinantes en esa etapa y muchos los recuerdos que quienes la vivieron en activo, encima de un patín o de cerca, guardan inamoviblemente en la memoria.
Los hechos del pasado están ahí, para sacar conclusiones y aprender de ellos si toca. Mientras, los individuos que los forjaron crecen y evolucionan. Ellos, los profesionales del skate que brillaron y escribieron, con su personalidad y su savoir-faire, ese capítulo, son el eje central del libro titulado No Skateboarding, del fotógrafo francés Mathias Fennetaux. También ellos, los pros, son el tema central de la siguiente conversación con Mathias…. Entre entusiastas anda el juego.
Mike McGill – Encinitas (2005)
Una introducción al principio: ¿Eras un fotógrafo al que le gustaba el skate o un skater interesado en la fotografía?
Todo empezó cuando tuve mi primer skate en 1985. Mis amigos y yo éramos adolescentes y estábamos llenos de esa rebeldía que brota del corazón del skateboarding. El street skate entraba con furia y nosotros vivíamos esa revolución en París como una pequeña crew de skaters de distintos barrios, que se juntaba cada fin de semana al pie de la Torre Eiffel, en un lugar llamado Trocadero.
¿Cómo era la fotografía de skate en París cuando empezaste?
Tras un tiempo, entre patinadas en Trocadero y exámenes, acabé el colegio en 1991, conseguí un trabajo de verano y me compré mi primera cámara, una Nikon FM2. Un año más tarde me publicaron la primera foto en una revista francesa. Comencé a capturar y a documentar lo que pasaba en ese entonces para algunas revistas, primero la escena francesa, más tarde la europea. Nunca estudié fotografía, aprendí paso a paso, error tras error, igual que con el skate, mirando fotos en la Transworld y en la Thrasher.
Cuéntanos cuales han sido los pasos más importantes de tu carrera… 
Bueno, todo ha caminado lentamente desde el comienzo, diría que mi mayor logro es este libro.
Hablemos, pues, de tu libro: ¿Por qué crear un libro de fotografías de pros del skate que no están patinando?
Fui por primera vez a California en 1997 a visitar a mi amigo Eric Obré, que abría la tienda Street Machine en San Diego. Fui para estar con él y hacer fotos de la escena californiana para una revista francesa. Escribía sobre nuevos talentos y tiraba fotos a los locales, no sabía que era el comienzo de una serie de viajes que llevarían a la publicación de un libro. En el 2000, sin tener una idea exacta de lo que construía, estaba en USA, una revista de aquí me envió a hacer fotos de acción y a conocer a algunos pros. Estaba a punto de conocer a Natas Kaupas, no le conocía personalmente, solo le había visto (con asombro) años antes, cuando literalmente voló por encima de uno de los "cacahuetes" de Trocadero (eran unos islotes con esa forma en medio de las piscinas que usábamos como rampas cuando estaban vacías). Después de la sesión de fotos, mientras conducía por la autopista 10, me di cuenta de que había rizado el rizo; si había una persona que había guiado mi skating ese era Natas (y Mark Gonzales). La idea me vino a la cabeza de repente, como una pieza de rompecabezas encajando en el puzzle. Natas había despertado en mi las ganas de patinar y el patín me había enganchado a la fotografía, que ahora era mi trabajo. Inmediatamente me dije: "voy a fotografiar a todas las figuras del skate, ¿quién sabe? A lo mejor un día publico las fotos". Mi idea era compilar el primer monográfico de retratos de pro skaters sin skate. Capturar las figuras claves del monopatín, pero a la persona que hay detrás del truco, no fotos casuales al despiste, sino posados fotografiados con mi cámara antigua de gran formato.
Deduzco que tenías muchos contactos dentro de la industria y te ayudaron en la consecución de tu objetivo, si no, ¿Cómo reuniste a todas esas leyendas?
No hice llamadas anticipadas desde Francia para concretar ningún encuentro, iba a Estados Unidos y me movía por mi cuenta. Una cosa sí es cierta; sin la ayuda de mi amigo Eric este proyecto nunca hubiera existido. Cada vez que llegaba a USA él me recibía y me conectaba con la gente adecuada. A partir de ahí yo me las apañaba para mover a team managers, novias y amigos de los patinadores y organizar las sesiones de fotos, sus números cambiaban constantemente, así que a menudo tenía que empezar desde cero en cada viaje. Este trabajo detectivesco me hacía sentir casi como un agente secreto en una misión. Uno detrás de otro, sin orden específico, intentaba conseguir minutos del tiempo de un skater profesional. A veces, con quienes yo pensaba que iba a ser más difícil quedar eran los más fáciles y viceversa. Con algunos necesité varias llamadas, viajes, e incluso años para arreglar una sesión.
¿Recuerdas cual fue la primera y la última foto que tomaste para el libro?
La primera fue de Andrew Reynolds en el Pont du Garigliano de Paris, en 1998. El equipo Birdhouse andaba de tour por Europa y tenían planeada una demo en Bercy, aquí en París. Era la primera vez de Andrew en ese spot. El coliseo de Bercy es un edificio de los 80 rodeado por cinco filas de asientos de granito que forman unas gradas, como un anfiteatro, rápidamente se convirtió en un skate spot icónico. Yo era el único fotógrafo presente. Andrew comenzó su sesión patinando la primera fila de asientos. Después de un rato se subió a la quinta fila, comprobó la carrerilla y midió el gap, tan ancho que parecía imposible de saltar de ollie, pero igualmente me preparé para tomar la secuencia. Andrew se saltó el gap a la primera, luego lo intentó de kickflip tres veces, el tercero lo cayó perfecto. Yo no quitaba el dedo del disparador. En el espacio de un carrete (36 fotos) Andrew planchó todos sus trucos favoritos y todos los presentes estaban alucinados. Después de su tremendo logro yo estaba decidido a conseguir el retrato. Un par de días después nos movíamos en coche por París, nos bajamos y caminamos hasta un escénico puente con la Torre Eiffel al fondo, ahí sacamos el retrato. El flip por encima de las cinco gradas marcó un nuevo estándar en el skate. Andrew no lo sabía en ese momento pero iba a recibir el premio al skater del año, seguro que ese increíble truco tuvo mucho que ver.
La última foto fue de Rodeney Mullen, un tipo que ha entregado su vida al monopatín. Durante las últimas dos décadas Rodney ha moldeado la evolución del skateboarding. Desde el freestyle de vieja escuela al street skate moderno, Rodney Mullen es el patinador más inventivo e influyente en términos de trucos y variaciones.
Personalmente, me gusta la foto de Kareem Campbell,  por el entorno rural en la que está ubicada ¿Cómo elegías los escenarios para los retratos?
Quería hacer las fotos en la calle, el entorno en el que la mayoría de los skaters escriben su historia. A veces tuve suerte con la localización, que para mí suele contar la mitad de la historia, otras me tenía que adaptar a algo que no era tan ideal, pero era el sitio donde había quedado con el protagonista y tenía que ser ahí, en ese momento o nunca. Cada retrato era un ejercicio repetido 70 veces, con las mismas pautas para todos; un lugar, una cámara y sólo uno o dos carretes de 24 fotos. Nada de digital ni segundas oportunidades, ni forma de comprobar los negativos antes de que me los devolvieran del laboratorio. La decisión de hacer las fotos en blanco y negro o color tenía que surgir en el último momento, después de ver como iba a ser la iluminación del sitio. El único vínculo permanente, y que marcaba el ritmo del libro, era el formato: cuadrado. En ningún momento dirigí ninguna sesión, dí libertad para que cada pro me mostrara el lado de su personalidad que quería. Seguro que algunos se vistieron para la ocasión, sabiendo que les iban a hacer un retrato, otros se presentaron tal y como estaban, detalles que estaban fuera de mi control pero que eran parte del juego.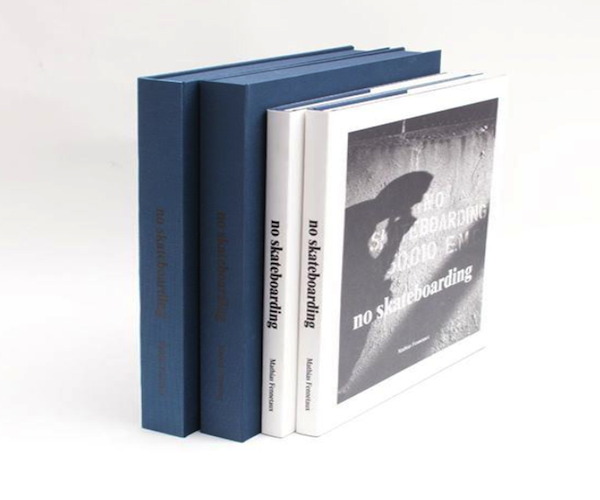 El proceso de impresión, edición, distribución, etc., tuvo que ser costoso ¿Recibiste algún tipo de patrocinio económico? ¿Pensaste en algún momento en lo arriesgado que era el proyecto ya que no incluía fotos de "acción"?
Los gastos corrieron por mi cuenta. Viajaba e iba tachando nombres de la lista. Lo hacía en mi tiempo libre, entre encargos y en periodos en los que no tenía trabajo. No tuve una agenda preestablecida, mi misión era "cazar" a los skaters.
Debido al crecimiento de la industria, el dinero, la información y otros factores, pienso que la actitud (o carácter) de los pros de los 80 no era igual que la de los pros en los 90, cómo tampoco la de esa generación era igual a la de los pros estos días ¿Crees que hay una seña de identidad para esa generación que tú retrataste? 
No creo que ese rasgo sea diferente al de los profesionales de ahora. Los patinadores siempre han cuidado su imagen, desde el día uno.
La cultura del skate es joven ¿Han sido los 90 la etapa más relevante hasta el momento?
No, sólo una más, el nacimiento del street skate.
¿Foto preferida del libro?
Ninguna realmente, cada una tiene una historia que contar.
¿Qué es lo que obtiene el comprador al hacerse con una copia de edición limitada de No Skateboarding?. 
Hay una edición limitada de 100 copias, cada libro firmado dentro un estuche que contiene una foto en blanco y negro (24x30cm). La otra edición es de 900 copias sencillas del libro.
Este verano has estado en Paris, en La Cite de la Mode et de Design, con la exposición de las fotos del libro ¿Cuál va a ser la próxima parada para No Skateboarding? 
Me gustaría ir a todas partes a compartir mi entusiasmo en este proyecto. Barcelona es, definitivamente, uno de los destinos.
Parece que hiciste el trabajo correcto en el mejor momento, ya que después del año 2000, con la democratización de la fotografía, el uso de Internet, y más recientemente, con la popularidad de Instagram, hay miles de "no skateboarding" fotos de los pros pululando por el ciberespacio a diario, ¿Qué opinión te da este fenómeno? ¿Qué dirías a posibles nuevos fotógrafos que se sienten apabullados y pierden interés por culpa de este hecho?
A los aspirantes a fotógrafos profesionales les diría que no pierdan el rumbo y sigan adelante. Todo el mundo es fotógrafo, lo complicado es saber cómo contar la historia, cómo enlazar un par de fotografías y relacionarlas. Para mí, trabajar en este libro fue un homenaje a mis días de skate y a todo eso que avivó mis sueños y ambiciones, pero, por encima de todo, es algo que hice para mí mismo. No fue un encargo de un cliente ni trabajé con un deadline presionándome, me tomé todo el tiempo necesario para hacerlo bien. Fueron más de diez años de proceso, sin obligaciones. Igual que el skateboarding o la propia fotografía el libro ha sido un ejercicio de estilo que requirió paciencia, dedicación, compromiso, resistencia e, incluso, terquedad. Me dio libertad y la oportunidad de conocer a gente maravillosa y de crear muchas historias para contar.
Texto y fotos*: John López
The 90s was a decade of exciting instability for the skateboard culture. Skaters had to adapt to a time of ups and downs, with the eyes wide open, curiously, always looking for what was coming next. The decade that started with a total global explosion, followed by a strange period of decline and finishing by settling the culture and turning it into a billion dollar empire by the start of the new millennium. There were many key factors in this evolution and many more  memories from those who lived the life either actively skating or just astounded by it.
Past happenings are there to draw conclusions and learn from. The people, the main characters, on the other hand, keep evolving. In this case, the professional skateboarders that wrote that chapter through their skills and their unique personalities. They are the focus on the "No Skateboarding" book by French photographer Mathias Fennetaux and the subject on the following conversation.
A short introduction to the beginning of your carreer: Were you a photographer interested in skateboarding or a skateboarder interested in photography?
Everything started back in 1985 when I got my first skateboard. Me and my friends were teenagers full of this rebel attitude that was at the very heart of skateboarding. Street skating was raging at the time and we were living this revolution in Paris, as a small crew of kids from different neighborhoods who came to hang out every weekend at the foot of the Eiffel Tower, in a place called the Trocadéro.
How it was skateboarding photography in Paris when you started?
After a long time juggling between skate sessions at the Trocadéro and school exams, I finished school in 1991, got a summer job, and bought my first camera: a Nikon FM2. A year later, I had published my first skate photo in a French magazine. My photography was born out of the scene I had grown up in. I started to document the French and later on the European skate scenes for magazines. I had never studied photography: I learnt it step by step, mistake after mistake, just as I had done with my skateboarding, by looking at skate photos in Transworld Skateboarding and Thrasher Magazine.
Tell us (roughly) which have been the most important steps in your career to date?
I don't know, everything rose slowly since the begining. I`d say this book it`s a real achievement.
Now let`s talk about No Skateboarding, the book: why to create a book of pros no skating?
I went to California for the first time in 1997 to visit my friend Eric Obré. He was opening the Street Machine skate-shop in downtown San Diego, and I came to stay with him and take photographs of the Californian skate scene for a French magazine. I was writing articles on the local fresh blood and snapping a few photos of the local skaters. I didn't know at the time that this would be the beginning of a series of trips that would lead to the publication of a book. In 2000, without any precise idea of what I was building yet, I was in the US again for a new trip to do action shots and meet pro skateboarders for a newly established French magazine. I was about to meet Natas Kaupas for a portrait session. I had never had a chance of meeting him personally. I had only gazed at him in amazement a few years earlier as he literally flew over the "Cacahouettes" in the Trocadéro's "Bassins"  (the peanut-shaped islands in the middle of the pools that we used as ramps when they were empty). I was stoked to now get a chance to meet the man. After the photo shoot, as I was driving back on Highway 10, I realized that I had just looped the loop. If there was one person who had driven my skateboarding, Natas had to be the one at the top of the list (with Mark Gonzales not far behind). It hit me suddenly. It was like the last piece of a jigsaw puzzle clicking into place. Natas had sparked my passion for skateboarding, and then skateboarding had hooked me to photography, which had turned out to be my job. Immediately I told myself: "Let's meet and photograph all the key figures that shaped skateboarding. Who knows? Perhaps one day it might even get published."  My idea was to put together the first monograph of portraits of skaters with no skateboarding. I wanted to capture the key figures of the scene but look beyond the tricks to see the men. And I wanted to do the thing right. It wouldn't be stolen portraits but posed shots taken with my bulky old-style square format, almost in the tradition of grand portraiture.
I guess you had a lot contacts inside the skate industry to compile the material, am I right? how then you have all those legends reunited?
I made no advance phone calls to arrange meetings from France. I would simply come to the US for a given period of time and would just freestyle it on a day-to-day basis. One thing is sure though: without Eric's precious friendship, this project would never have existed. Every time I went to the US, he always welcomed me and hooked me up with the people that mattered. From then on, I had to try and get hold of team managers, friends and girlfriends to track down the riders and arrange photo shoots with them. Numbers were changing so quickly that I often had to start from scratch at every trip. This detective work made it feel almost like being a secret agent on a mission. One after the other, with no specific order, I was trying to get a few minutes of a professional skateboarder's time. Sometimes the guys that I thought would be the most difficult to get hold of were the easiest to hook up with, and vice versa. With some it took several phone calls on different trips over several years to get a photo shoot organized.
The process of print, edition, distribution had to be expensive, did you receive financial help? 
On my own buck, I traveled to chase down the names on my list. I did it in my spare time, between commissions, during slack periods. I had no pre-established schedule except that one way or another I had to get all the guys.
Do you remember which was the first photo you took and which was the last one (for the book)?
Andrew Reynolds at the Pont du Garigliano in Paris. The Birdhouse team was touring Europe in 1998 with a demo planned at the Bercy arena in Paris. It was Andrew's first time at this particular spot. The Bercy arena is a big 80's building flanked by a series of five rows of huge granite seats, arranged in tiers as in an amphitheater, which quickly turned it into an iconic skate spot. I was the only photographer present. Andrew started his session by skating the first row of seats. After a while he got up to the fifth row, and checked the runway while measuring the gap which was so wide that it seemed impossible to ollie. But I got myself ready to shoot the sequence anyway. Andrew managed the gap on his first try. Then he tried to kick flip it, three times. The third one was landed perfectly. My finger remained on the camera's trigger the whole time. Within the space of one roll of film (36 exposures) Andrew stuck all his favorite tricks. Everyone present was stoked. After his incredible achievement, I was keen to shoot a portrait of the man.
A few days later, as we were driving through Paris, we pulled over and walked to this scenic bridge with the Eiffel Tower in the background where we shot the portrait. His huge flip over the five rows of seats set a new standard in skateboarding. Andrew didn't knew it yet, but he would be given the Skater of the Year Award, probably, in part, due to that incredible trick.
Last photo is of Rodney Mullen. A man who devoted his life to a seven-ply wood piece. For the last two decades Rodney has accompanied and shaped the evolution of skateboarding. From old-school freestyle to modern street skateboarding, Rodney Mullen has been one of the most inventive and influential skaters in terms of tricks and variations.
Personally, I like the photography of Kareem Campbell on that "country" environment,  what kind of rules or settings did you followed to choose the scenario for each portrait?
I wanted them to be shot in the street, the environment in which they had written their history. Sometimes I had to make do with something that wasn't ideal (but it was where the guy had agreed to meet me and it was going to be either this or nothing). The portraits turned into an exercise repeated seventy times: one sitting, one camera and only one or two rolls of films (24 shots max). No digital, no second chance, no way of checking my negatives before I got them back from the lab. I had no set rule on color or black and white. It was a last-minute decision due to light conditions or the location of the shooting. The silent link that would set the pace of the book would be my square format. I didn't drive or direct the shooting, I let each guy free to show me the side of his personality he wanted. Some probably dressed up because they knew they were going to have a portrait taken, some just turned up the way they were. This was outside of my control and was part of the game.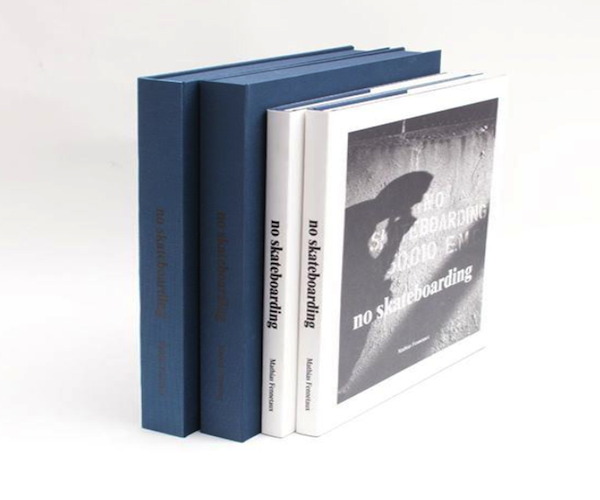 I think that the common attitude of professional skaters in the 80s was not the same as that of the professionals in the 90s, likewise, the charisma of the skaters from that (90`s) era isn`t the same that the skate stars nowadays show, perhaps due to different factors, such as a bigger industry, money, information, etc., making today pros more aware of their public image, do you agree? do you think there`s an identifying trait of that (90`s) generation? 
I don't think that is so far from what it was at the time. The riders always take good care of their images, since day one.
Skateboarding culture is young, do you think 90s it`s its most relevant decade?
Just another time, the early birth of street skating.
Do you have a favorite photo from the book?
Not really, everyone got a story to tell.
Why a limited edition book and what the buyer obtains when he/she purchase a copy?
100 copies for the limited edition comes with a clamshell box and a classic B&W limited prints. 900 units of the book itself.
This summer you have been in Paris with an exhibition for the book at La Cite de la Mode et de Design, what`s the next stop for No Skateboarding?
I wish everywhere I could go to share my enthusiam with this project. Barcelona is definitely a destination.
It seems like you have done the right job at the right time since after the year 2000, with the easy access to the global web, to photography, and now with the popularity of Instagram, everybody is a photographer, and there are thousands of "no skateboarding" photos flowing through the digital space on a daily basis, what do you think about this phenomena? what would you say to new and old photographers losing interest on photography because of that fact?
Just keep on tracking your destination. Everybody is a photographer, the most dificult things is to know how to tell a story, to know how to link few photgraphies together by a strong relationship. For me, working on this book was a tribute to my skateboarding days and to all those that fueled my dreams and ambitions. But above all, it was something I did for myself. It wasn't a commission from a client, I wasn't working on a deadline, I took all the time I needed to do it right. It was over ten years in the making but in the end there was no compromise and no shortcut. Like skateboarding or photography itself, the book has been an exercise in style, requiring patience, dedication, commitment, resilience and even stubbornness, but it has also proved immensely rewarding, giving me freedom and the opportunity to meet great people and have great stories to tell.
Words and photos*: John López
Comments
comments